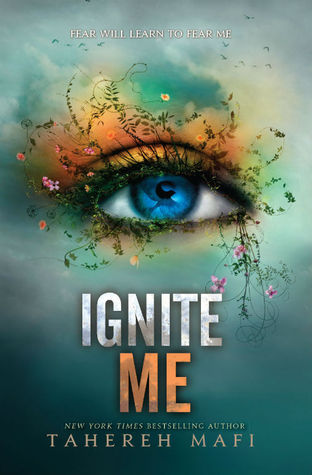 Title: Ignite Me
Author: Tahereh Mafi
Series/Standalone: Shatter Me Series (Book #3)
Genre: Young Adult, Dystopian, Romance
Pages: 408
Publisher: HarperCollins
Year Published: 2014
Format: Paperback Copy (Own It)
First Line: "I am an hourglass."
"The fat of Omega Point is unknown.
Everyone Juliette cares about may be dead. now Juliette is the only one standing in The Reestablishment's way. But to take them down, as well as Anderson, the man that nearly killed her. Juliette needs the help of the one person she never thought she could trust: Warner. And as they work together, Juliette will discover that everything she thought she knew-- about Warner, her abilities, and even Adam-- was wrong."
My Rating: 5/5
This is what some thought would be the last installment in a trilogy, but the jokes on us the series has been continued to a 6 book series. So who knows if what I thought would be an ending will continue to be the ending. I know that a lot of people are not a fan of this last book (which is interesting to me because it has a very high rating on Goodreads). I think that this ending is exactly what I hoped for. I found myself having to put this book down and pace during the stressful times in this storyline. Our characters have changed so much since the first book which readers either love or hate. I'm clearly on the love side of this series. I can't wait to continue on with the next book coming out this upcoming spring.
Thanks for reading,
Sidny