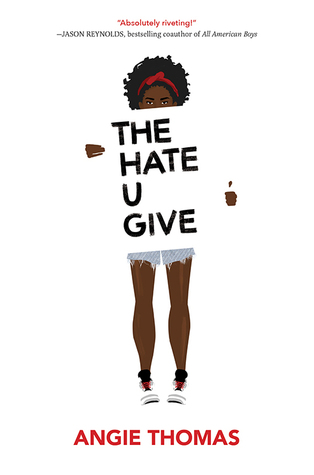 Title: The Hate U Give
Author: Angie Thomas
Series/Standalone: Standalone
Genre: Young Adult, Contemporary
Pages: 464
Publisher: Balzer + Bray
Year Published: 2017
Format: Hardcover (Own It)
First Line: "I shouldn't have come to this party."
"Sixteen-year-old Starr Carter moves between two worlds: the poor black neighborhood where she lives and the fancy suburban prep school she attends. The uneasy balance between these worlds is shattered when Starr witnesses the fatal shooting of her childhood best friend, Khalil, at the hands of a plice officer. Khalil was unarmed.
Soon afterward, Khalil's death is a national headline. Some are calling him a thug, maybe even a drug dealer and a gangbanger. Starr's best friend at scool suggests he may have had it coming. When it becomes clear the police have little interest in investigating the incident, protesters take to the streets and Starr's neighborhood becomes a war zone. What everyone wants to know is: What really went down that night? And the only person alive who can answer that is Starr.
But what Starr does- or does not- say could destroy her community. It could also endanger her life.
Angie Thomas's searing debut about an ordinary girl in extraordinary circumstances addresses issues of racism and police violence with intelligence, heart and unflinching honesty."
My Rating: 5/5
I understand now why everyone should read this book. This book was eye opening, heartbreaking and inspiring. I think that Angie Thomas's writing style is important to note. It is a story that I think that everyone should read based on the content matter and the way things are shown. I'm aware that as a white woman I have privileges that many others do not. That being said, there were so many things that I never even thought of having to be careful about. For example, I have never feared a police officer, but this book really made me think about how the concept of police officer's can be different for you based on something like your background, neighbourhood, or race. It's horrible to think about, but an important thing for people to understand.
Another aspect that I really enjoyed was the idea of family. I feel like so often in stories like this we see a family life that has become stereotypical, but this book made me wish that I could meet Starr's family.
Thanks for reading,
Sidny