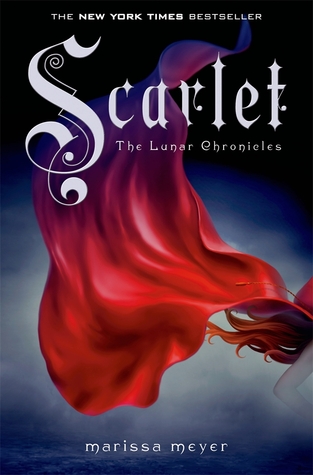 Title: Scarlet
Author: Marissa Meyer
Series/Standalone: The Lunar Chronicles (Book #2)
Genre: Fantasy, Young Adult, Science Fiction
Pages: 454
Publisher: Feiwel & Friends
Year Published: 2013
Format: Physical Copy (Own it)
First Line: "Scarlet was descending toward the alley behind the Rieux Tavern when her portscreen chimed from the passenger seat, followed by an automated voice: 'Commm received for Mademoiselle Scarlet Benoit from the Toulouse Law Enforcement Department of Missing Persons."
"Cinder, the cyborg mechanic, returns in the second thrilling instalment of the bestselling Lunar Chronicles. She's trying to break out of prison even though if she succeeds, she'll be the Commonwealth's most wanted fugitive.
Halfway around the world, Scarlet Benoit's grandmother is missing. When Scarlet encounters Wolf, a street fighter who may have information as to her grandmother's whereabouts, she is loath to trust this stranger but is inexplicably drawn to him, and he to her. As Scarlet and Wolf unravel one mystery, they encounter another when they meet Cinder. Now, all of them must stay one step ahead of the vicious Lunar Queen Levana, who will do anything for the handsome Prince Kai to become her husband, her king, her prisoner."
My Rating: 4.5/5
So this book has been a long time coming for me to read. I finally had the chance to binge read this book this weekend. Overall I loved the way the story introduced new characters and a slightly different plot. But it still manages to keep our older characters close, and is able to connect these characters together. I loved the way the story line morphed and the new characters we got a chance to meet in this installment.
Thanks for reading,
Sidny