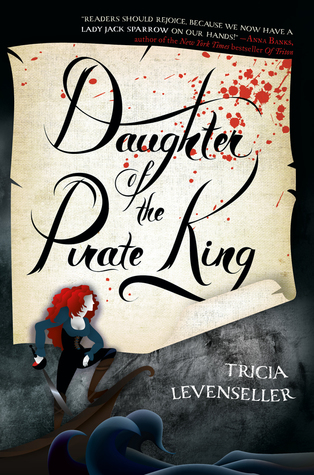 Title: Daughter of the Pirate King
Author: Tricia Levenseller
Series/Standalone: Daughter of the Pirate King (Book #1)
Genre: Fantasy, Young Adult, Romance, Pirates
Pages: 311
Publisher: Feiwel & Friends
Year Published: 2017
Format: Audiobook
"There will be plenty of time for me to beat him soundly once I've gotten what I came for.
Sent on a mission to retrieve an ancient hidden map- the key to a legendary treasure trove- seventeen-year-old pirate captain Alosa deliberately allows herself to be captured by her enemies, giving her the perfect opportunity to search their ship
More than a match for the ruthless pirate crew, Alosa has only one thing standing between her and the map: her captor, the unexpectedly clever and unfairly attractive first mate, Riden. But not to worry, for Alosa has a few tricks up her sleeve, and no lone pirate can stop the Daughter of the Pirate King."
My Rating: 4.5/5
I really loved this book and was glad to be able to get a copy of it through OverDrive for the Scally-Wag-A-Thon. I loved the concept, but the story itself blew me away. The use of mythological creatures and pirate fantasy was incredible to listen and the narrator blew the story out of the water (haha). I loved the use of pirate language and the different accents that are added to the audiobook and would definitely recommend listening to this story if you haven't already read it. I'm excited to read the second book and see where our story goes.
Overall, loved it!
Thanks for reading,
Sidny