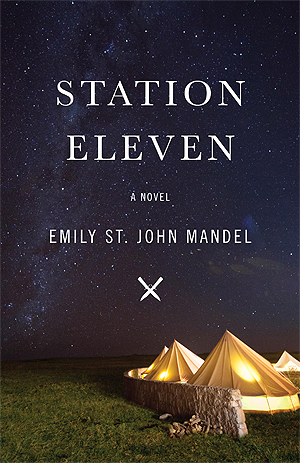 Title: Station Eleven
Author: Emily St. John Mandel
Series/Standalone: Standalone
Genre: Fiction, Science Fiction, Dystopia
Pages: 336
Publisher: Knopf
Year Published: 2014
Format: Paperback Copy (Own It)
First Line: "The king stood in a pool of blue light, unmoored."
"An audacious, darkly glittering novel set in the eerie days of civilization's collapse, Station Eleven tells the spellbinding story of a Hollywood star, his would-be saviour, and a nomadic group of actors roaming the scattered outposts of the Great Lakes region, risking everything for art and humanity.
One snowy night a famous Hollywood actor slumps over and dies onstage during a production of King Lear. Hours later, the world as we know it begins to dissolve. Moving back and forth in the time- from the actor's early days as a film star to fifteen years in the future when a theater troupe known as the Travelling Symphony roams the wasteland of what remains- this suspenseful, elegiac, spellbinding novel charts the strange twist of fate that connects five people: the actor, the man who tried to save him, the actor's first wife, his oldest friend, and a young actress with the Travelling Symphony, caught in the crosshairs of a dangerous self-proclaimed prophet.
Sometimes terrifying, sometimes tender, Station Eleven tells a story about the relationship that sustains us, the ephemeral nature of fame, and the beauty of the world as we know it."
My Rating: 4.5/5
This was my local book club book for the month and I'm really surprised how much I enjoyed it. This story takes place in the before and after of the apocalypse switching perspectives between many characters who somehow intertwine. I think that the author painted a chilling picture of what the world would be like if things ground to a halt. I loved the writing style as well as the organization of the parts of the story. Everything just made it an enjoyable read overall. I also loved the changing of perspectives between the past and the present and how different people lived their lives in these times.
I would recommend this to lovers of science fiction and dystopian if you're looking for a more relaxed reading experience.
Thanks for reading,
Sidny