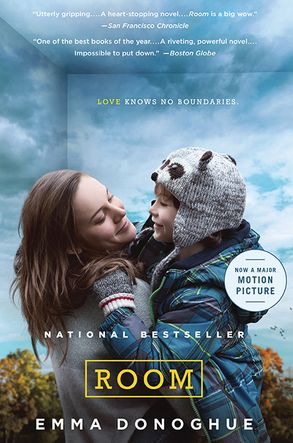 Title: Room
Author: Emma Donoghue
Series/Novel: Novel
Genre: Adult, Fiction, Contemporary
Pages: 321
Publisher: Little, Brown and Company
Year Published: 2010
First Line: "Today I'm five."
"To five-year-old Jack, Room is the world.
It's where he was born. It's where he and Ma eat and sleep and play and learn. But to Ma, Room is the prison where she's been kept since she was nineteen- for seven long years. Through her fierce love for her son, she has created a life for him in the eleven-by-eleven-foot space. But these walls can't hold them forever."
My Rating: 4.5/5
This is not a book that was in my TBR, but a copy was given to me by my boyfriend's mother who said that it's an interesting read and she wanted to see what I thought of it. After this my mother told me that she had been reading this book as well and I should definitely read it, so we could watch the movie together.
Hard to wait when they're two people who are willing you on to read it.
And they were not wrong. This story takes place from Jack's perspective. One gets to know his thoughts on the inside of the room and the developing story about how there is more to life than just the room. It was interesting to see how a child reacted to what he saw, was told and how the imprisonment had affected his overall development. Especially as someone who works with children I found his thoughts about reality and fantasy to be interesting.
This story is in four separate sections each one slightly changing is thought and further develops the characters. Overall this story was very good, but for me the ending left something to be desired. This of course is personal opinion, so tell me yours in the comments.
Thanks for reading,
Sidny