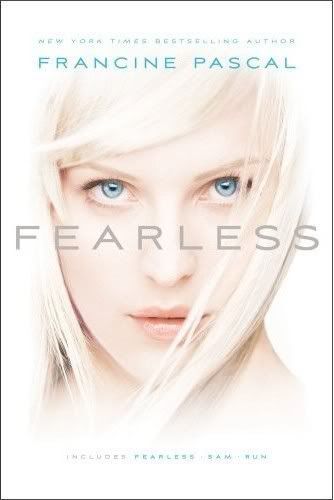 Title: Fearless
Author: Francine Pascala
Series: Fearless (Book #1)
First Line: "Losers with no imagination say that if you start a new school, there has to be a first day."
"
Fearless
introduces us to Gaia Moore, a girl born without the gene for fear. Gaia's mother was murdered, and her father, Tom Moore, a famous covert antiterrorist mastermind, is in hiding. Now 17 years old, Gaia is living in New York City with Tom's CIA friend, George, and his wife, Ella. Gaia is a prime target for terrorists and is in constant danger, but she is trained in all forms of combat so she can defend herself. Like Buffy and Xena, Gaia Moore is a force.

But she is also a high school student, trying to be like everyone else. As her friendships develop, we see that Gaia is in many ways a typical teen -- when she's not busy getting herself into and out of dangerous situations, righting wrongs, avenging hurts, and solving mysteries."
This book was a good read. Not to deep or anything, but enjoyable. It's one of those books that makes you want to read the next one, but not to the point where you feel the need to pick it up immediately. As I was reading this book I found that this book would make a really good movie or television show, because as I visualized what was happening it played through my mind like a show. I didn't have trouble imagining anything, but there isn't a lot of in depth detail. I did like the idea of this book. It was exciting and a really interesting concept.
THANKS FRANCINE PASCAL FOR MAKING A GIRL SUPERHERO WHO WE CAN RELATE TO!