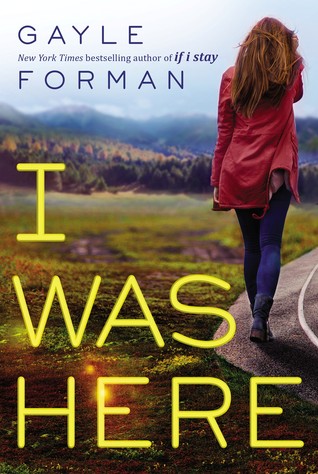 Title: I Was Here
Author: Gayle Forman
Series/Novel: Novel
Genre: Young Adult, Contemporary
Pages: 270
Year Published: 2015
Publisher: Speak
First Line: "The day after Meg died, I received this letter:"
"It's like she was my sun, and then my sun went out...
When her charismatic best friend, Meg, drinks a bottle of industrial strength cleaner alone in a motel room, a piece of Cody dies, too. Meg was everything to her. How could Cody not know? Determined to find out what really happened. Cody begins a dangerous search to the shadowy fringes of Meg's life where she discovers some unsettling truths about friendship, secrets, forgiveness and love."
My Rating: 4/5
I'm having trouble deciding what to rate this book as I felt so many things throughout reading it. During the first half of the book I found it full of mystery and wondering. I felt along with Cody as she sifted through a life she really didn't know anything about. I was curious about how it happened and more so the why. I have a family history of mental illness and until I was an adult I didn't realise that that's what mental illness looks like. This story is more than sad, it's more than heartbreaking. It's a realisation that sometimes we just get blindsided. We don't know what's going on with everyone around us. It's so easy to get caught up in ourselves and what we need. It's interesting to see it through someone else's eyes and discovers as they discover.
I would warn anyone looking into this book it has a suicidal triggers and I would suggest it for 16 plus.
Thanks for reading,
Love,
Sidny