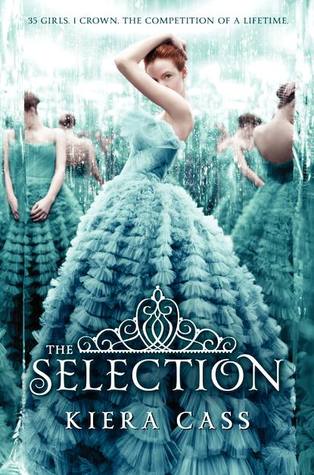 Title: The Selection
Author: Kiera Cass
Series/Novel: The Selection Series (Book #1)
Genre: Young Adult, Science Fiction, Dystopia, Romance
Pages: 327
Publisher: HarperTeen
Year Published: 2012
First Line: "When we got the letter in the post, my mother was ecstatic."
"For thirty-five girls, the Selection is the chance of a lifetime.
The opportunity to be swept up in a world of glittering gowns and priceless jewels. To live in a palace and compete for the heart of gorgeous Prince Maxon.
But for America Singer, being Selected is a nightmare. It means turning her back on her secret love with Aspen, who is a caste below her, and leaving her home to enter a fierce competition for a crown she doesn't even want.
Then America meets Prince Maxon. Gradually, she begins to realize that the life she's always dreamed of may not compare to a future she never imagined."
My Rating: 5/5
This book is the first book in the Selction Series that has just wrapped up this year to my understanding. I bought this book a while ago and was a little wishy washy when I read the cover. I was unsure whether it was something I would really enjoy or if it was something that was very popular main stream but just not for me. This story follow America who is in a caste, or as I thought of it level that is closer to the bottom then the top. After applying to the Selection, which she is sure she will never be accepted to, America is moved to a castle filled with competition, rebels and elegant lifestyles.
I really enjoyed this book and am glad that I was in the city when I started it as I was able to buy the second book to the series. I really think that America is a strong and relatable character. She is friendly without being overly affectionate. She has characters she also loves and those she doesn't, which really gives her character dimension. I also found the world interesting as it explains aspects of the world through flowy writing rather just abrputly in a way that just throws off the story. I am extremely excited to read the next book in this series and may ignore my TBR for a while to finish the series...
I would suggest these books to anyone interested in romance, ya and dystopia. It's an interesting take on all these genres.
Thanks for reading,
Love,
Sidny