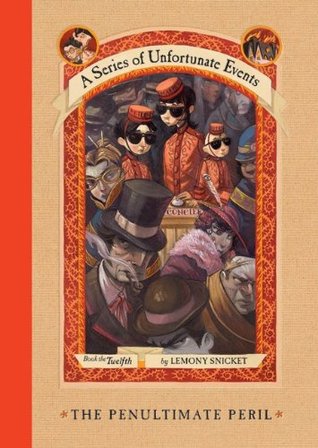 Title: The Penultimate Peril
Author: Lemony Snicket
Series/Standalone: A Series of Unfortunate Events (Book #12)
Genre: Fiction, Middle Grade, Mystery
Page: 353
Publisher: HarperCollins Publishers
Year Published: 2005
Format: Hardback Copy (Library Edition)
First Line: "Certain people have said that the world is like a calm pond,, and that anytime a person does even the smallest thing, it is as if a stone has dropped into the pond, spreading circles of ripples further and further out, until the entire world has been changed by one tiny action."
"Dear Reader,
If this is the first book you found while searching for a book to read next, then the first thing you should know is that this next-to-last book is what you should put down first. Sadly, this book presents the next-to-last chronicle of the lives of the Baudelaire orphans, and it is next-to-first in its supply of misery, despair and unpleasantness.
Probably the next-to-last thing you would like to read about are a harpoon gun, a rooftop sunbathing salon, two mysterious initials, three unidentified triplets, a notorious villain, and an unsavoury curry.
Next-to-last things are the first thing to be avoided, and so allow me to recommend that you put this next-to-last book down first, and find something else to read next at last, such as the next-to-last book in another chronicle, or a chronicle containing another next-to-last things, so that this next-to-last book does not become the last book you will read.
With all due respect,
Lemony Snicket
My Rating: 4.5/5
This story is the next-to-last book. If you didn't gather that from the description above. It was a really interesting last book it took place with so many different characters from the children's past. It was great to read about I can't wait to finish the series. This series is asking young readers tough questions what is good, what is evil? Are we all morally grey? I just wish I would have completed the series at a younger age though, as the twists and turns might be more shaking.
Thanks for reading,
Sidny