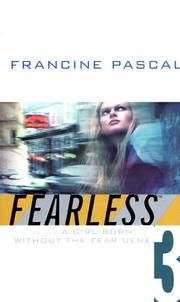 Series: Fearless (Book #3)
First Line: "Do you know what hell is?"
"She's a black belt in karate. She's a precision marksman. She has the reflex speed of an Olympic athlete and can throw a 175 pound man over her head. Meet Gala Moore, not your typical high school senior -- she's Fearless. She's also the closest link to her father, a covert anti-terrorist agent who's hiding underground, so she's been forced to live with a family friend, George Nivens, in New York City Gala gets herself into dangerous situations, righting wrongs, avenging hurts and solving mysteries. Her world is about to change, however, exploding with terrorists, computer hackers, government spies and people bent on taking her apart…"
So let's start this book review off with an announcement. This will be the last Fearless series book that I tackle, and this has little to do with the lower rating it's received but rather to do with the fact that there are 36 novels not including specials. I'm afraid that I couldn't find the next one and having to order them in one by one just isn't going to work for me. Now on to the book itself.
This instalment in the series was important to the series, but I also feel like this part was written for TV more than for a book. Down to the soundtrack. It just didn't work for me. I still that we have an awesome main character to read about but she isn't grabbing my attention as much as she did in the first book and that makes it a difficult book to work your way through.
That being said not everything in Run was stuff I didn't like. I liked that there was still humour used and we can see a "new" characters point of view a lot more.
THANK YOU FRANCINE PASCAL FOR A GIRL SUPERHERO FOR THE AGES!