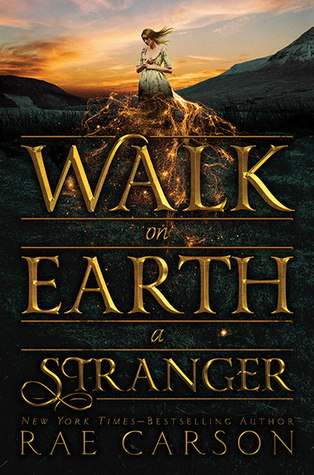 Title: Walk On Earth A Stranger
Author: Rae Carson
Series/Standalone: The Gold Seer Trilogy (Book #1)
Genre: Fantasy, Historical Fiction, Young Adult
Pages: 436
Publisher: Greenwillow Books
Year Published: 2015
First Line: "I hear the deer before I see him, though he makes less noise than a squirrel- the gentle crunch of snow, a snapping twig, the soft whuff as he roots around for dead grass."
"Gold is in my blood, in my breath, even in the flecks in my eyes.
Lee Westfall has a strong, loving family. She has a home she loves and a loyal steed. She has a best friend- who might want to be something more
She also has a secret.
Lee can sense gold in the world around her. Veins deep in the earth. Small nuggets in a stream. Even gold dust caught underneath a fingernail. She has kept her family safe and able to buy provisions, even through the harshest winters. But what would someone do to control a girl with that kind of power? A person might murder for it.
When everything Lee holds dear is ripped away, she flees west to California= where gold has just been discovered. Perhaps this will be the one place a magical girl can be herself. If she survives the journey.
The acclaimed Rae Carson begins a sweeping new trilogy set in Gold Rush- era America, about a young woman with a powerful and dangerous gift."
My Rating: 4/5
Can we start off by talking about how beautiful the cover on this book is? I know it's wrong to judge a book by it's cover, but I'm also the type of person to do just that so judge if you want to, but I'll continue regardless. This book is a historical fiction that takes place during the gold rush era in America featuring strong characters, one with a tremendous power. I think that this story did an amazing job at using history in a creative and interesting way. The thrown in of magic didn't overpower the whole story and overall it had a more historical fiction feel, rather than a fantasy feeling overall. I also think this story did an amazing job of bringing up racism and sexism that were very prevalent during this time. I really enjoyed the story overall and hope to continue the trilogy with the next book shortly.
Thanks for reading,
Sidny