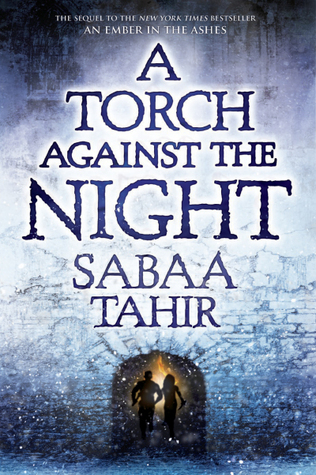 Title: A Torch Against the Night
Author: Sabaa Tahir
Series/Standalone: An Ember in the Ashes (Book #2)
Genres: Fantasy, Young Adult, Romance
Pages: 452
Publisher: Razorbill
Year Published: 2016
First Line: "How did they find us so fast?"
"Elias and Laia are running for their lives. After the events of the Fourth Trial, Martial soldiers hunt the two fugitives as they flee the city of Serra and undertake a perilous journey through the heart of the Empire.
Laia is determined to break into Kauf- the Empire's most secure and dangerous prison- to save her brother, who is the key to the Scholar's survival. And Elias is determined to help Laia succeed, even if it means giving up his last chance at freedom.
But dark forces, human and otherworldly, work against Laia and Elias. The pair must fight every step of the way to outsmart their enemies: the bloodthirsty Emperor Marcus, the merciless Commandant, the sadistic Warden of Kauf, and, most heartbreaking of all, Helene- Elias's former friend and the Empire's newest Blood Shrike.
Bound to Marcus's will, Helene faces a torturous mission of her own- one that might destroy her: find the traitor Elias Veturius and the Scholar slave who helped him escpae... and kill them both."
My Rating: 4/5
So for anyone who may be unsure. This is the second book in the Ember's in the Ashes's series. That means this book review will likely contain spoilers for the first book. Sorry...
Now that that's out of the way. I really enjoyed this book. I considered not picking up the seoncd book in the series because I wasn't completely blown away by the first novel. I enjoyed it, I thought it was interesting enough, but not something that knocked my socks off.
But this second book wasn't getting the best reviews either. Other's were saying that it was a disappointment compaired to the first book, so I thought since my opinions seem to be completely differentmaybe they would be. And I really enjoyed this book. I thought that the characters grew so much and became so much more flushed out. We learn so much more about the politics in this world.And the plot twists here and there were perfect. I would say that this didn't get a 5/5 because it didnt' pull me in right right away which might be because I wasn't sure about it going in. But that's just my little old opinion. Let me know your down below.
Thanks for reading,
Sidny