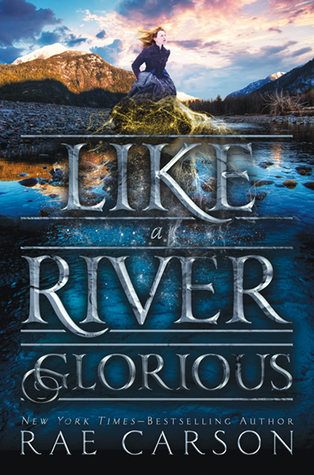 Title: Like A River Glorious
Author: Rae Carson
Series/Standalone: The Gold Seer Trilogy (Book #2)
Genre: Fantasy, Historical Fiction, Young Adult
Pages: 416
Publisher: Greenwillow Books
Year Published: 2016
Format: Hardcover Physical Copy
First Line: "Sunrise comes late to California."
"He will never stop hunting me down. I have to end him, and soon.
Lee Westfall survived the dangerous journey to California. She found a new family in the other outcasts of their wagon train, and Jefferson, her best friend, is beginning to woo her shamelessly. Now they have a real home- one rich in gold thanks to Lee's magical ability to sense the precious metal in the world around her.
But Lee's Uncle Hiram has survived his own journey west. He's already murdered her parents, and he will do anything to have Lee and her talents under his control. No one is safe. When he kidnaps her, she sees firsthand the depths of his depravity.
Lee's magic is changing, though. It is growing. The gold no longer simply sings to her- it listens. It obeys her call. Will that alone be enough to destroy her uncle?"
My Rating: 4/5
My mom loves this series. That's how I'm going to start this review. Solid choices. So after I ordered this book I passed it off to her cause she was dying to see where the series would go (she's not impressed she has to wait until October for the next one). So it's taken me a little while to get reading this book, but wow what an interesting turn from the first book. I found this book to be refreshing between the fantasy reads that I was reading. I found that this book started with a slow beginning similar to the first book. I found that it was it picked up far faster than the first story. I also found that this book had a far sadder story for both our main characters and the surrounding world in up and coming California. There were times in this story where it broke my heart to see people of different race and gender treated like trash, but I think it's important to remember our history so we can improve our future. At least that's what I hope. I would recommend this to any lovers of historical fiction and those interested in gold rush times. It also has a key bit of magic, if you're just wandering into historical fiction for the first time. Overall, I enjoyed this story and plan to continue the series although I'm not sure where it could possibly go.
Thanks for reading,
Sidny