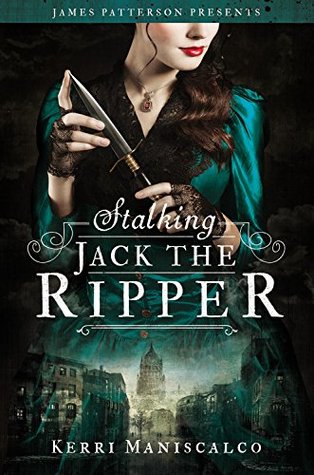 Title: Stalking Jack the Ripper
Author: Kerri Maniscalco
Series/Standalone: Stalking Jack the Ripper (Book #1)
Pages: 326
Genre: Historical, Young Adult, Mystery
Publisher: Jimmy Patterson
Year Published: 2016
Format: Audiobook
"Seventeen-year-old Audrey Rose Wadsworth was born a lord's daughter, with a life of wealth and privilege stretched out before her. But between the social teas and silk dress fittings, she leads a forbidden secret life.
Against her stern father's wishes and society's expectations, Audrey often slips away to her uncle's laboratory to study the gruesome practice of forensic medicine. When her work on a string of savagely killed corpses drags Audrey into the investigation of a serial murderer, her search for answers brings her close to her own sheltered world."
My Rating: 4.5/5
I thought that this audiobook would just fill time while I was doing house work or driving but it became so much more than that. I would recommend this book as a great who did it novel for anyone interested in historical thrillers. I had heard quite a bit of hype for this book going around booktube, and it was accurate to how the story played out for me. I realize that this story isn't 100% historical accurate, and that this might be a problem for some, but I didn't mind, as there is an author's note in the back of the book explaining what changes the author had made and why. I think that the characters in this book were well fleshed out and for being in a time period where young women were not looked at as powerful, it did a grand job of showing a woman who knew her purpose and planned to be taken seriously. I really enjoyed this book and plan to pick up the next book in the series as soon as possible, preferably on audio. I wanted to note for those who do chose to listen to this book on audio, I loved the narrator and think that she did a tremendous job acting out the story, and keeping the listener's attention. I'm excited to listen to more books in this series and hope to have more reviews soon.
Thanks for reading,
Sidny