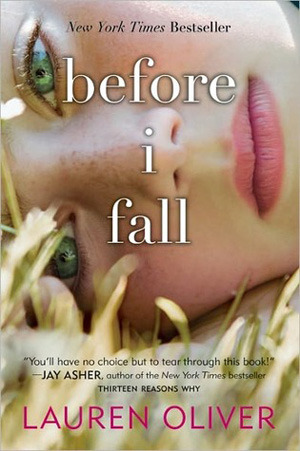 Title: Before I Fall
Author: Lauren Oliver
Series/Standalone: Standalone
Genre: Young Adult, Contemporary, Fiction,
Pages: 470
Publisher: HarperCollins
Year Published: 2010
Format: Audiobook
"With this stunning debut novel, New York Times bestselling author Lauren Oliver emerged as one of today's foremost authors of young adult fiction. Like Jay Asher's Thirteen Reasons Why and Gayle Forman's If I Stay, Before I Fall raises thought-provoking questions about love, death, and how one person's life can affect so many others.
For popular high school senior Samantha Kingston, February 12th- 'Cupid Day'- should be one big party, a day of valentines and roses and the privileges that come with being at the top of the social pyramid. And it is... until she dies in a terrible accident that night.
However, she still wakes up the next morning. In fact, Sam lives the last day of her life seven times, until she realizes that by making even the slightest changes, she may hold more power than she ever imagined."
My Rating: 4/5
I didn't hope on this train either times it was really popular, both when it first came out and when the film was released this past year. I just missed the boat, but when I saw it available on audiobook through Overdrive I jumped at the chance to understand the conflict behind this book. And I do understand it. This book has triggers for mental illness, abuse, sexual assault, suicide, etc. There are problems with this book for sure, but that being said, this book does something similar to both Thirteen Reasons Why and If I Stay (both books I've enjoyed in the past). It asks questions about how your life affects those around you and what you would choose to do if you could change something. I thought that the author for the audiobook was very good and kept me interested. I would suggest this book to anyone who is a fan of the movie Mean Girls but be warned that this book deals with a few more series topics, rather than comedic ones.
Thanks for reading,
Sidny