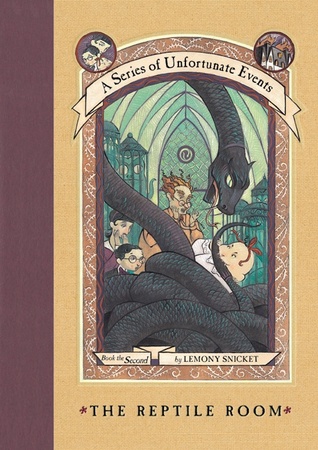 Title: The Reptile Room
Author: Lemony Snicket
Series/Standalone: A Series of Unfortunate Events (Book #2)
Genre: Fiction, Fantasy, Middle Grade
Pages: 192
Publisher: Scholastics, Inc.
Year Published: 1999
First Line: "The stretch of road that leads out of the city, past Hazy Harbor and into the town of Tedia, is perhaps the most unpleasant in the world."
"Dear Reader,
If you have picked up this book with the hope of finding a simple and cheery tale, I'm afraid that you have picked up the wrong book altogether. The story may seem cheery at first, when the Baudelaire children spend time in the company of some interesting reptiles and a giddy uncle, but don't be fooled. If you know anything at all about the unlucky Baudelaire children, you already know that even pleasant events lead down the same road to misery.
In fact within the pages you now hold in your hands, the three siblings endure a care accident, a terrible odor, a deadly serpent, a long knife, a large brass reading lamp, and the reappearance of a person they'd hoped never to see again.
I am bound to record these tragic events, but you are free to put this book back on the shelf and seek something lighter.
With all due respect,
Lemony Snicket."
My Rating: 5/5
It's amazing how reading something as an adult is so different than when you were in middle school. I find that this book was far easier to get into and full of interesting narration that Lemony Snicket has mastered. I loved this instalment in the series, it was just enough to give younger readers hope and for me, it painted Count Olaf as an even crazier villain. I think that he is truly the perfect villain willing to stop at nothing and someone who has never been caught. I am excited to read the rest of the series to prep for the Netflix series. I think that this story reminded me why I loved these books when I was younger.
As a side note, I plan to read all the books before doing another spoiler as many of these books are smaller reads.
Thanks for reading,
Sidny