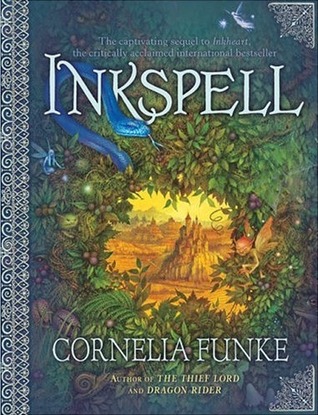 Title: Inkspell
Author: Cornelia Funke
Series/Novel: Inkworld (Book #2)
Genre: Young Adult, Fantasy, Adventures
Pages: 635
Publisher: The Chicken House
Year Published: 2005
First Line: "Twilight was gathering and Orpheus still wasn't here."
"The captivating sequel to INKHEART, the critically acclaimed international bestseller by Cornelia Funke, an author who is emerging as a truly modern classic write for children.
Although a year has passed, not a day goes by without Meggie thinking of INKHEART, the book whose characters became real. But for Dustfinger, the fire-eater brought into being from words, the need to return to the tale has become desperate. When he finds a crooked storyteller with the ability to read him back, Dustfinger leaves behind his young apprentice, Farid and plunges into the medieval world of his past. Distraught, Farid goes in search of Meggie, and before long, both are caught inside the book, too. But the story is threatening to evolve ways neither of them could ever have imagined."
My Rating: 3.5/5
So I started to listen to this book on audio a while ago and it took me until now to buckle down and finish it. I really enjoyed the audiobook overall, I just found that after listening to it for 5 hours, I started to just ignore the sound when I was listening to it in my car so I kept having to repeat sections to make sure I was getting the whole story. In the end, I also took out a physical copy from my local library to finish off the 300 pages I had left. So I finished it very late last night and while I enjoyed the book as a whole, I wasn't nearly as blown away as I was with Inkheart. I think that the characters in this book began to grow in a way that was unexpected to me and that the setting had a huge impact on this. I did enjoy the change of setting and getting to see a book within a book. The ending really grabbed my attention with the unexpected twist, but even that seemed to fall a little flat overall. I would say that this book would be perfect for someone in the beginning of high school or middle school as it is middle grade, but it's a huge book to get through.
Now the question some might be asking.... Do I plan to finish the series? I certainly do. I am still as in love with the characters as ever, and if you ask me I think that's what makes this story truly remarkable as a whole.
I hope to get to the third book after winter holidays, because of it's huge size, I want to take a breather from the Inkworld for a month or so.
Thanks for reading,
Sidny