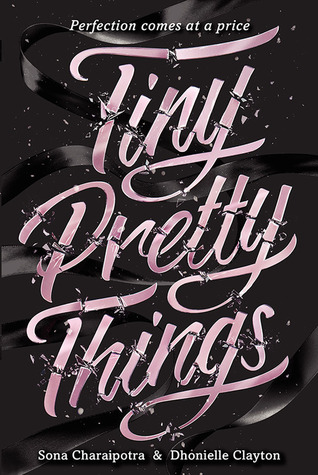 Title: Tiny Pretty Things
Authors: Sona Charaipotra and Dhonielle Clayton
Series/Standalone: Tiny Pretty Things (Book #1)
Genre: Young Adult, Mystery, Contemporary
Pages: 438
Publisher: HarperTeen
Year Published: 2015
First Line: "It always feels like death."
"HOW FAR IS TOO FAR?
At one of Manhattan's most elite ballet schools, wafer-thin ballerinas pull their hair into sleek buns and lace their pointe shoes high, waiting for their chance to shine. But beneath the pretty, polished surface, these girls are hiding some terrible secrets and telling some twisted lies.
Privileged Bette is tiny and beautiful- like a ballerina is a music box. But living forever in the shadow of her ballet0star sister and under the weight of family expectations brings ut a dangerous edge in her.
Perfectionist, June can turn a flawless plie and diligently keeps her weight below 100 pounds. But she's never landed a lead role. Tired of always being the understudy, this year she'll settle for nothing but the best- even if she must resort to some less-than-perfect means to get there.
And new girl Gigi isn't your traditional ballerina. A free-spirited California girl, she's not used to the fierce competition. Still, that doesn't stop her from outperforming every dancer in the school. But even she is hiding a ticking time bomb, and the very act of dancing just might expose her secrets to everyone.
Being a prima isn't all satin and lace, sometimes you have to play dirty. With the competition growing fiercer with every performance, and harmless pranks growing ever darker, it's only a matter of time before one small spark ignites... and even the best get burned."
My Rating: 4/5
So I'm glad that I read this book after reading a manga because I felt like I had some time away from the drama. I thought that this book would be a fluff piece and show the joy and perfection of being a ballerina but it wasn't afraid to shy away from the ugly stuff. It showed how severe competition can affect people's bodies and minds. Everything even their spirits. As time went on I thought that this book really picked up pace. I thought that the first half was a little slow and I wasn't quite invested in the story right off the hope, but I finished the second half in one sitting. It was amazing. I started to love the characters and was surprised that I didn't figure out the mystery aspect on my own. I can't wait to read the second one.
Thanks for reading,
Sidny