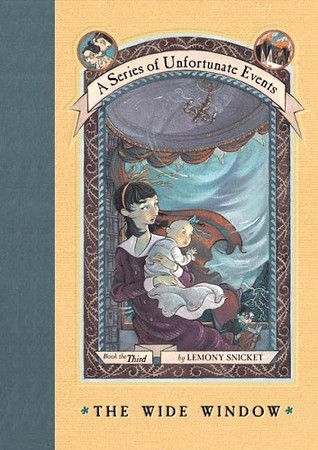 Title: The Wide Window
Author: Lemony Snicket
Series/ Standalone: A Series of Unfortunate Events (Book #3)
Genre: Fiction, Young Adult, Fantasy
Pages: 214
Publisher: HarperCollins
Year Published: 2000
First Line:"If you didn't know much about the Baudelaire orphans, and you saw them sitting on their suitcases at Damocles Dock, you might think that they were bound for an exciting adventure."
"Dear Reader,
If you have not read anything about the Baudelaire orphans, then before you read even one more sentence, you should know that Violet, Klaus and Sunny are kindhearted and quick-witted, but their lives, I am so sorry to say, are filled with bad luck and misery. All of the stories about these children are unhappy and wretched, and the one you are holding may be the worst of them all.
If you haven't got the stomach for a story that includes a hurricane, a signalling device, hungry leeches, cold cucumber soup, a horrible villain, and a doll named Pretty Penny, then this book will probably fill you with despair.
I will continue to record these tragic tales, for that is what I do. You, however, should decide for yourself whether you can possibly endure this miserable story.
With all due respect,
Lemony Snicket"
My Rating: 5/5
This book is the third in the series and I'm really enjoying this rereading experience. I hope to pick up at least 2 books from this series a month, but that will depend on my schedule this month. I thnk this is my favourite so far in the series, and it really got me thinking. I work with children in a daycare centre and seeing how characters react to these children got me thinking. The lack of understanding and listening in this story made me wonder if that's how children often feel in other circumstances. I also found that this book really highlighted the villainy which I loved. I love a good villain, even if I only love to hate them. These books make a change in this book from middle grade to young adult. As an adult, I'm finding these books to be so much more enjoyable, as I pick up on jokes I did not when I was in my preteens.
Thanks for reading,
Sidny