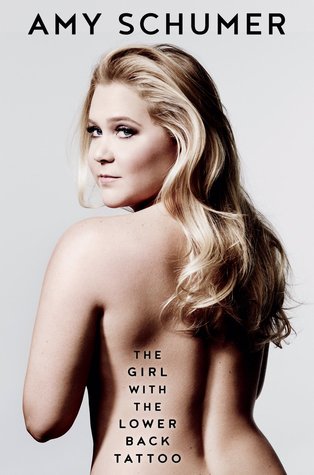 Title: The Girl With The Lower Back Tattoo
Author: Amy Schumer
Series/Standalone: Standalone
Genre: Nonfiction, Humor, Memoir
Pages: 323
Publisher: Gallery Books
Year Published: 2016
First Line: "Hey, it's me, Amy."
"The Emmy Award- winning comedian, actress, writer, and star of Inside Amy Schumer and the acclaimed film Trainwreck has taken the entertainment world by storm with her winning blend of smart, satirical humor. Now, Amy Schumer has written a refreshingly candid uproariously funny collection of (extremely) personal and observational essay.
In The Girl wit the Lower Back Tattoo, Amy mines her past for stories about her teenage years, her family, relationships, and sex, and shares the experiences that have shaped who she is- a woman with the courage to bare her soul and stand up for what she believes in, all while making us laugh.
Ranging from the raucous to the romantic, the heartfelt to the harrowing, this highly entertaining and universally appealing collection is the literary equivalent of a night out with your best friend- equivalent of a night out with your best friend- an unforgettable and fun adventure you wish could last forever. Whether she's experiencing lust at first sight while in the airport security line, sharing her own views on love and marriage, admitting to being an introvert, or discovering her boot camp instructor's secret bad habit, Amy Schumer proves to be a bighearted, brave, and thoughtful storyteller who will leave you nodding your head in recognition, laughing out loud, and sobbing uncontrollably- but only because it's over."
My Rating: 5/5
To start: Please note there will not be a spoiler for this book as it is nonfiction!
For those who don't know me personally, I'm a sucker for comedy. Not just comedy movies, but also specials. Really anything that can make me cackle, I'm in. I've watched a few of Amy's appearances and watched Trainwreck as soon as it came out. I really enjoyed both of this interactions mostly because of her crude and witty comedy style. I enjoyed cruder comedy growing up, but noticed that when women did it they caught a lot of flack. And while this can be said for Amy Schumer as well. I think that she's hysterical, talented and overall an amazing role model. This book really gave an insight to her life, her mistakes, her triumphs and her career. I thought that it showed a completely different side of her and the collection of shorter stories were easier to read and pieced together quite nicely. I would certainly read another book of hers and hope that she plans to write more in the future. Until then I will binge watch any comedy specials that will keep me giggling like the immature fool that I am.
Thanks for reading,
Sidny