The Gargoyle by Andrew Davidson:
This is a story that completely blew my mind the first time I read it. This story follows a man in the hospital who meets someone from the psych ward and the "adventures" that ensue.
"The Gargoyle
: the mesmerizing story of one man's descent into personal hell and his quest for salvation.
On a dark road in the middle of the night, a car plunges into a ravine. The driver survives the crash, but his injuries confine him to a hospital burn unit. There the mysterious Marianne Engel, a sculptress of grotesques, enters his life. She insists they were lovers in medieval Germany, when he was a mercenary and she was a scribe in the monastery of Engelthal. As she spins the story of their past lives together, the man's disbelief falters; soon, even the impossible can no longer be dismissed."
Ashes by Ilsa J. Bick:
Zombies and so much more, this story follows the apocalypse as it happens.
"
It could happen tomorrow . . .
An electromagnetic pulse flashes across the sky, destroying every electronic device, wiping out every computerized system, and killing billions.
Alex hiked into the woods to say good-bye to her dead parents and her personal demons. Now desperate to find out what happened after the pulse crushes her to the ground, Alex meets up with Tom—a young soldier—and Ellie, a girl whose grandfather was killed by the EMP.
For this improvised family and the others who are spared, it's now a question of who can be trusted and who is no longer human.
Author Ilsa J. Bick crafts a terrifying and thrilling novel about a world that could be ours at any moment, where those left standing must learn what it means not just to survive, but to live amidst the devastation. "
Before I Go To Sleep by S.J Watson:
An amazing thriller that chilled me to the bone while reading it.
""As I sleep, my mind will erase everything I did today. I will wake up tomorrow as I did this morning. Thinking I'm still a child. Thinking I have a whole lifetime of choice ahead of me. . . ."
Memories define us.
So what if you lost yours every time you went to sleep?
Your name, your identity, your past, even the people you love—all forgotten overnight.
And the one person you trust may be telling you only half the story.
Welcome to Christine's life."
Flowers in The Attic by V.C Andrews
A classic that was tried and true in my books. It's a little crazy to think that I read these when I was 13. Hoping to reread them soon.
"
Such wonderful children. Such a beautiful mother. Such a lovely house. Such endless terror!
It wasn't that she didn't love her children. She did. But there was a fortune at stake--a fortune that would assure their later happiness if she could keep the children a secret from her dying father.
So she and her mother hid her darlings away in an unused attic.
Just for a little while.
But the brutal days swelled into agonizing years. Now Cathy, Chris, and the twins wait in their cramped and helpless world, stirred by adult dreams, adult desires, served a meager sustenance by an angry, superstitious grandmother who knows that the Devil works in dark and devious ways. Sometimes he sends children to do his work--children who--one by one--must be destroyed....
'Way upstairs there are
four secrets hidden.
Blond, beautiful, innocent
struggling to stay alive...."
We Were Liars by E. Lockhart:
This is one of the most recent thrillers I loved. I thought that this book was perfect for YA readers and was filled with crazy twists and turns that I loved.
"
A beautiful and distinguished family.
A private island.
A brilliant, damaged girl; a passionate, political boy.
A group of four friends—the Liars—whose friendship turns destructive.
A revolution. An accident. A secret.
Lies upon lies.
True love.
The truth.
We Were Liars
is a modern, sophisticated suspense novel from National Book Award finalist and Printz Award honoree E. Lockhart.
Read it.
And if anyone asks you how it ends, just LIE." -goodreads.com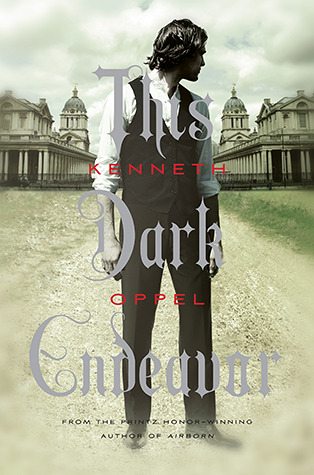 This Dark Endeavour by Kenneth Oppel: This book is a retelling of the past of Frankenstein and a different form of childhood for the characters in that story.
"

Victor and Konrad are the twin brothers Frankenstein and inseparable until Konrad falls gravely ill. In the forbidden Dark Library, Victor finds an ancient formula, and seeks an alchemist to recreate the Elixir of Life. With friends Elizabeth and Henry, he scales highest trees in the Strumwald, dives deepest lake caves, and each sacrifices a body part."
-goodreads.com
Warm Bodies by Isaac Marion:
This story wasn't only about zombies, it was filled with comedy. So if you are not a fan of being spooked out, this is a light-hearted read for the season.
"
R is having a no-life crisis—he is a zombie. He has no memories, no identity, and no pulse, but he is a little different from his fellow Dead. He may occasionally eat people, but he'd rather be riding abandoned airport escalators, listening to Sinatra in the cozy 747 he calls home, or collecting souvenirs from the ruins of civilization.

And then he meets a girl.

First as his captive, then his reluctant guest, Julie is a blast of living color in R's gray landscape, and something inside him begins to bloom. He doesn't want to eat this girl—although she looks delicious—he wants to protect her. But their unlikely bond will cause ripples they can't imagine, and their hopeless world won't change without a fight.
"
-goodreads.com
For anyone who's known me or has been around this blog for a while you might know that I am a huge chicken about things so I'm even surprised that I'm making a post like this for Halloween. That being said, I freaking love Halloween. I'm so excited for dressing up and while I understand people who read spooky things this month only but I love spooky and thrilling all year long.
Thanks for reading,
Sidny