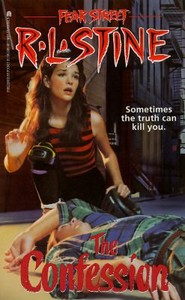 Title: The Confession
Author: R.L Stine
Series: Fear Street
Pages: 150
Publisher: Parachute Press, Inc.
Year Published: 1996
"All Julies friends hated Al. They all wished Al were dead. But that doesn't mean one of them killed him. Julie knows her friends. She knows they are innocent.
Until one of them confesses.
Julie and her friends promise to keep the killers secret. After all, they know he would never kill again.
♥The Interview ♥
What drew you to this book?
♥ The title, also I've read other books by R.L Stine that I really enjoyed.
Q. What do you enjoy most about the horror genre
?
♥The thrill I get from reading. I love suspense.
Q. Based on other books you've read by R.L Stine would you say this is one of your favourites? If not, what's your favourite and why?
♥Honestly, I would have to say this is not one of his better books. Although I did like it, it wasn't as good as some others I've read. My favourite would have to be Twisted because there was a ton of suspense.
Q. Favourite part of this novel?
♥ When the characters went roller skating.
Q. Favourite character?
♥ I like Hillary a lot because of her spunk.
Q.
If you could say anything to the author what would it be?
♥ I would suggest a bigger thrill content. Although it did have moments of suspense, it didn't have all I had hoped for.
Q. What did you feel was the best done?
♥ I felt that the setting was easy to visualize. When I closed my eyes I could really see Shadyside.
Q. Who would you recommend this book for?
♥ Firstly, I would like to mention that I got this book from the Young Adult section at my library,

so I would have to say that this book is meant for an older group. Secondly, personally I think if you like the horror aspect of books this is a pretty decent first read if you don't' want to jump in all the way.
SPOILER♥Moments to Remember♥SPOILER
♥Pg. 25
"'Why?' Hillary demanded. 'Why'd they suspend him?'
Vincent grinned at us. 'Al rolled up his English term paper and smoked it in front of Mrs. Hirsch.'"
"'Didn't you used to baby-sit for those twins?' Hillary asked as I skated up beside her.
I nodded. 'I just fell on one of them,' I told her. 'But not hard enough!'"
Thanks so much for reading,