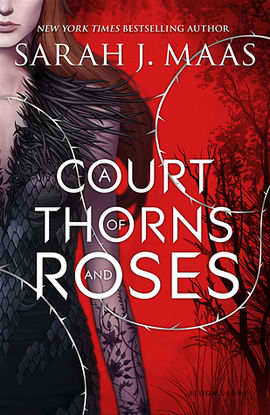 Titl
e: A Court of Thorns and Roses
Author: Sarah J. Maas
Series/Novel: A Court of Thorns and Roses Series (Book #1)
Genre: Fantasy, Young Adult, Romance, New Age
Pages: 416
Publisher: Bloomsbury USA Childrens
Year Published: 2015
First Line: "The forest had become a labyrinth of snow and ice."
"When nineteen-year-old huntress Feyre kills a wolf in the woods, a beast-like creature arrives to demand retribution. Dragged to a treacherous magical land she knows about only from legends, Feyre discovers that her captor is not an animal but Tamlin- one of the lethal, immortal faeries who once ruled their world.
As Feyre dwells on his estate, her feelings for Tamlin transforms from icy hostility into a fiery passion that burns through every lie and warning she's been told about the beautiful, dangerous world of the Fae. But an ancient, wicked shadow over the faerie lands in growing, and Feyre must find a way to stop it... or doom Tamlin- and his world- forever."
My Rating: 5/5
So I've never read a Sarah J. Maas novel. You can start booing now. But I finally did it! And wow, I understand why the reading community is in love with her writing. I think that the detail put into this book is one of the reasons I really enjoyed it. I knew that it was a retelling of Beauty and The Beast but I really enjoyed how she made it her own type of tale. I thought that the characters were interesting and easy to love. I also found that the setting was interesting. The different areas in this world was something really interesting to me. I think that further exploring this world in the next book (which is a behemoth) will be another chance to learn more about the different areas and the different characters within them. I can't wait! I'm hoping to order it online soon! I would like to mention that this book has adult content that may be a little too much for younger readers, but that is up to your discretion.
Thanks for reading,
Sidny