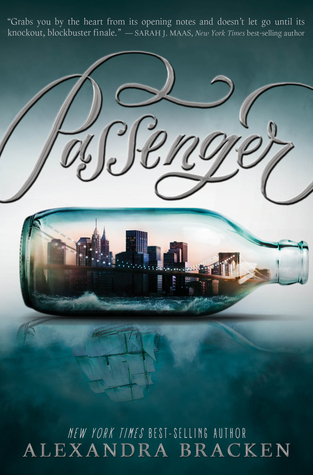 Title: Passenger
Author: Alexandra Bracken
Series: Passenger Series (Book #1)
Genre: Fantasy, Young Adult, Science Fiction, Historical Fiction
Pages: 489
Publisher: Hyperion
Year Published: 2016
First Line: "As they ascended, retreating farther from winding trails that marked the way to nearby villages, the world opened to him in its purest form: silent, ancient and mysterious."
"Passage, n.
i. A brief section of music composed of a series of notes and flourishes.
ii. A journey by water; a voyage.
iii. The transition from one place to another, across space and time.
In one devastating night, violin prodigy Etta Spencer loses everything she knows and loves. Thrust into an unfamiliar world by a stranger with a dangerous agenda, Etta is certain of only one thing: she has travelled not just miles but years from home. And she's inherited a legacy she knows nothing about from a family whose existence she's never heard off. Until now.
Nicholas Carter is content with his life at sea, free from the Ironwoods- a powerful family in the colonies- and the servitude he's known at their hands. But with the arrival of an unusual passenger on his ship comes the insistent pull of the past that he can't escape and the family that won't let him go so easily. Now the Ironwoods are searching for a stolen object of untold value, one they believe only Etta, Nicholas' passenger, can find. In order to protect her, he must ensure she brings it back to them- whether she wants to or not.
Together, Etta and Nicholas embark on a perilous journey across centuries and continents, piecing together clues left behind by the traveller who will do anything to keep the object out of the Ironwoods' grasp. But as they get closer to the truth of their search, and the deadly game the Ironwoods are playing, treacherous forces threaten to separate Etta not only from Nicholas but from her path home... forever."
My Rating: 3/5
So when I first started watching booktube this year (I know where have I been) this book was all the rage. It came out and everyone was talking about Alexandra Bracken and her past series. They also talked about the cover, which let's be real is really beautiful. They weren't wrong there. This being said, I don't really watch reviews because I like to go into a book as blind as possible. So little did I know that this book does not have some of the best ratings. I found this read to be a solid mah. It was okay. I didn't love it, I didn't hate it. It was just kind of there. I found myself reading it and hoping that it would get better as I continued to read, but then I just realized the only thing gripping my attention was getting to the end. I also found that the characters were difficult to cheer forward and I struggled to build an attachment towards them. This first installment just wasn't for me and while others found the ending redeeming, I found that it stopped short for my liking. All of this being said, I don't see myself picking up the sequel which is set to release next year, although if I stumbled across it in my travels I may attempt to pick it up.
A reminder that these are my own personal opinions and I encourage you to make your own by reading this book.
Thanks for reading,
Sidny