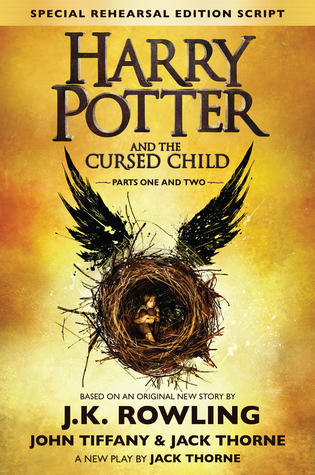 Title: Harry Potter and The Cursed Child
Authors: JK Rowling, John Tiffany, & Jack Thorne
Series/Novel: Script in the Harry Potter Series
Genre: Fantasy, Fiction, Young Adult, Play
Pages: 368
Publisher: Arthur A. Levine Books
Year Published: 2016
"Nineteen years after the Battle of Hogwarts....
It was always difficult being Harry Potter, and it isn't much easier now that he is an overworked employee of the Ministry of Magic, a husband and a father of three school-age children.
While Harry grapples with a past that refuses to stay where it belongs, his youngest son Albus must struggle with the weight of a family legacy he never wanted. As past and present fuse ominously, both father and son learn the uncomfortable truth: Sometimes, darkness comes from unexpected places.
Based on an original new story by J.K Rowling, John Tiffany and Jack Thorne, Harry Potter and the Cursed Child is a new play by Jack Thorne. It is the eighth Harry Potter story and the first to be officially presented on stage. This special rehearsal edition of the script brings the continued journey of Harry Potter and his friends and family to readers everywhere immediately following the play's world premier in London's West End on July 30, 2016."
My Rating: 4/5
I started this book last night and was really enjoying it. To the point where I finished it last night around midnight. This is the 8th story in the Harry Potter series and it takes place nineteen years after the Battle of Hogwarts. The story follows Harry and his family along with many other characters that we know and love. I found this book extremely enjoyable. It made me want to reread the Harry Potter series once more and review them on here. I really enjoy the series as a whole. I know that this book has had many mixed reviews and that may be because of the way it is written. It is the script from the play taking place in London. I found that it was a quick read because of the format but it did seem to change some of the characters behaviour that I knew and loved. I think that if I had reread the Harry Potter series before reading this I would have been far more disappointed in the story, but I did find that this book gave me a chance to see so many favourite characters that I hadn't for a long time and catch up in their lives. I didn't like how some of the characters behaviour was extraordinarily different from what I recall from the book as well I found some parts to be a bit corny while reading. Therefore I docked 1 star. But overall an enjoyable read.
Thanks for reading,
Sidny