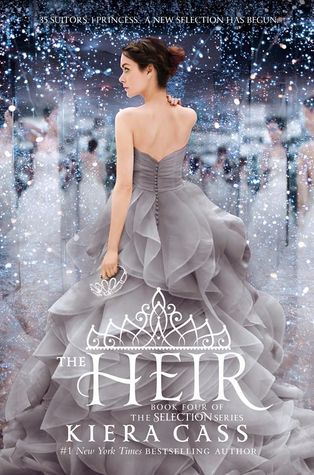 Title: The Heir
Author: Kiera Cass
Series: The Selection Series (Book #4)
Genres: Young Adult, Romance, Science Fiction, Dystopia
Pages: 342
Publisher: HarperTeen
Year Published: 2015
First Line: "I couldn't hold my breath for seven minutes."
"Twenty years ago, her mother won the crown. Now it's Princess Eadlyn's turn to find true love.
Princess Eadlyn has heard countless stories about the Selection that brought her parents together, and while it's a beautiful fairy tale, it's not what Eadlyn wants for herself. Unfortunately, she can't escape the path laid out for her... including her very own Selection. Eadlyn doesn't expect to find love among the Selection's thirty-five eligible bachelors. But finding her own happily ever after might not be as impossible as she's always thought."
My Rating: 3.5/5
So this review will contain a slight spoiler for the first three books in the Selection series. I think that this book was a bit of a let down after reading the first three books in the Selection series. I think that this book had a huge change of characters. This fourth book in the series follows America and Maxon's daughter as she trains to take over the country from her father after many changes have taken place in the country. The way the characters and the country has changed made me change my opinion of the world. I found that the main character had traits that I just didn't find easy to accept, and they kinda clashed with my feelings on things. I'm not sure if the author did this intentionally or if this was just how she had envisioned Eadlyn. Overall I found this book hard to get through and didn't care to pick it up until about half way through. I am looking forward to finishing this series and am excited to see how it draws to a close.
Thanks for reading,
Sidny