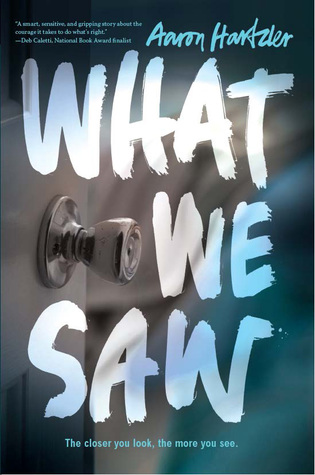 Title: What We Saw
Author: Aaron Hartzler
Series/Stand Alone: Stand Alone
Genre: Young Adult, Contemporary, Mystery
Pages: 336
Publisher: HarperTeen
Year Published: 2015
First Line: "This video doesn't show you everything."
"Kate Weston can piece together most of the bash at John Doone's house: shots with Stacey Stallard, Ben Cody taking her keys and getting her home early- the feeling that maybe he's becoming more than just the guy she's known since they were kids.
But when a picture of Stacey passed out over Deacon Mill's shoulder appears online, Kate suspects she doesn't have all the details. When Stacey levels charges against four of Kate's classmates, the whole town erupts into controversy. Facts that can't be ignored begin to surface, and every answer Kate finds lead back to the same question: Where was Ben when a terrible crime was committed?
This story- inspired by real events- from debut novelist Aaron Hartzler takes an unflinching look at silence as a form of complicity. It's a book about the high stakes of speaking up, and the razor thin line between guilt and innocence that so often gets blurred, one hundred and forty characters at a time."
My Rating: 4.5/5
Before getting into this review this book has a few triggers and should be read carefully. It deal with the idea of feminism as well as the look at rape culture. I found that this book really hit on important topics as a young woman in the modern world. It shows how society thinks can change the action of a group as a whole. It makes you wonder about the possibilities and sad about the losses that have happened in the past for victims of such crimes. Mostly this book made me wonder what if? What if the roles were changed? What if it was older people? Younger people? This book is a hard hitter and digs deep where it counts. I did find that the characters were a little young for me, but that being said, this topic is important for all ages, genders and races to read. For everyone. Is it pretty? No, but it's important!
The only reason I docked .5 stars for this book is I found that a few of the characters were hard to get past and the slow start to the book. I just found that the first third seemed to drag a little to long for my liking. I do hope to read more of Aaron Hartzler's work and hope that it's as well thought out as this amazing debut.
Thanks for reading,
Sidny