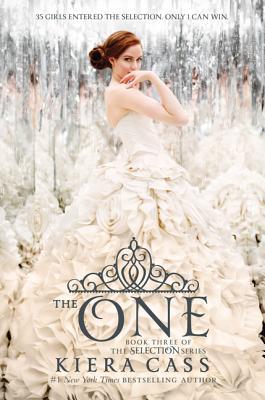 Title: The One
Author: Kiera Cass
Series/Novel: The Selection Series (Book #3)
Genre: Young Adult, Dystopia, Science Fiction, Romance
Pages: 323
Publisher: HarperTeen
Year Published: 2014
First Line:
"This time we were in the Great Room enduring another etiquette lesson when bricks came flying through the window."
"The time has come for one winner to be crowned. When she was chosen to compete in the Selection, America never dreamed she would find herself anywhere close to the crown- or to Prince Maxon's heart. But as the end of the competition approaches, and the threats outside the palace walls grow more vicious, America realizes just how much she stands to lose- and how hard she'll have to fight for the future she wants."
My Rating: 5/5
So I waited for this book in the mail for what seems like forever, and it came right before a postal strike in Canada, so yay for beating deadlines. I really think that it was interesting to see the change in America throughout the series and hope to see more of her in the following book. I found that because I didn't read this book before the rest came out. I found that it made the ending more predictable, although the getting to any ending was interesting. I loved learning more about the characters and learning more about the country's life every day. I found that the story was both interesting and romantic. I really enjoyed it all together and look forward to reading The Heir, The Crown and The Selection Stories collection. I hope to learn more about the future of the country.
Thanks for reading,
Love,
Sidny