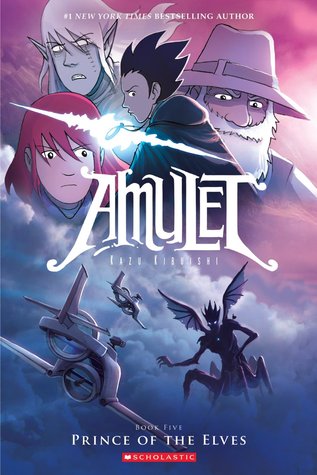 Title: Prince of Elves
Author: Kazu Kibuishi
Series/Standalone: Amulet Series (Book #5)
Genre: Graphic Novel, Middle
Pages: 208
Publisher: GRAPHIX
Year Published: 2012
"The enemy grows stronger...
Emily survived the chaos of the Guardian Academy, but Max Griffin has stolen the Mother Stone. With it, the Elf King forges new Amulets that will give him the power to invade and destroy the nation of Windsor. Emily and her friends lead the soldiers of the Cielis Guard in a fight to stop him, but Max stands in their way. And when she seeks information from the Voice of her Amulet, she discovers that the Voice is much more sinister than she ever could have imagined."
My Rating: 5/5
I made the choice to continue reading tonight and I'm glad that I did. After doing more research on this series I've found out that book 7/9 have been published. My library has the first 6 copies and am planning to pick up the 7th in a few months. I can't wait to read them all. This series is taking further dark turns which is what I really love about it. The dark and sinister plot thickening is amazing. The writing is well thoughout and the plot is marvelous. I'm anxious to see how the series draws to a close over the coming years.