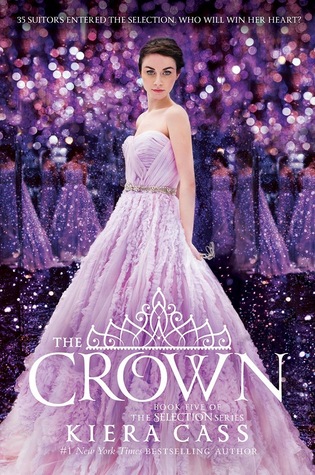 Title: The Crown
Author: Kiera Cass
Series/Novel: The Selection Series (Book #4)
Genre: Young Adult, Science Fiction, Dystopia, Romance
Pages: 278
Publisher: HarperTeen
Year Published: 2016
First Line: "'I'm sorry,' I said, bracing myself for the inevitable backlash."
"A selection can only have one winner.
A princess only has one heart.
When Eadlyn became the first princess of Illea to hold her own Selection, she didn't expect to fall in love the way her parents did twenty years ago. But sometimes the heart has a way of surprising you... and soon Eadlyn must make a choice that feels more impossible- and more important- than she ever imagined."
My Rating: 4/5
This is the final book in the Selection series and reading it was bittersweet. It was nice to see the story come to a close. Seeing how the characters had all grown up as well as the countries change over 2 generations was interesting to me. That being said I'm glad that it's over. I'm not the biggest fan of the main character and found that by the end of this book it was just a little rushed. This being said, Kiera Cass made many twists and turns in this last book that left me hooked until the end. The addition of newer characters and changes of the people in Illea made this book far more enjoyable than the Heir. I hope to read Happily Ever After (a collection of novellas) before putting this series down for a while.
All of the above being said, I'm grateful that I picked up The Selection when I did as it helped me get out of a reading slump and had very important messages beyond becoming a princess.
I would suggest this book for anyone who enjoyed the Hunger Games or Divergent as long as they can handle slightly more drama and romance.
Thanks for reading,
Sidny