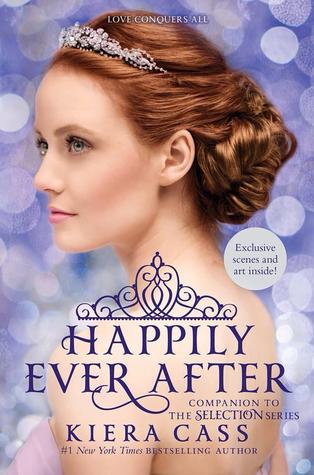 Title: Happily Ever After
Author: Kiera Cass
Series/Novel: Selection Series Companion
Genre: Young Adult, Dystopia, Science Fiction, Romance
Pages: 416
Publisher: HarperTeen
Year Published: 2015
"Before they found their happily ever afters, Amberly Maxon, Aspen and Marlee had other stories to tell.
Return to the world of the #1 New York Times bestselling Selection series with the enchanting collection of four novellas."
My Rating: 5/5
This book is a collection of novellas from the Selection series. So this is me completing my endeavour into this series. I must say that I really did enjoy the series as a whole and this was the perfect way to wrap it up. Those of you who have read my previous reviews and spoilers on this series, will know that I was more interested in the first three books than the last two. This is why I loved this book so much. It was amazing closure and I enjoyed the notes from the author at the beginning of the novellas. This was a great story if you're interested in finding out more about the characters in this story I strongly recommend this book. If you're fine with all the endings feel free to leave it out.
Thanks for reading,
Sidny